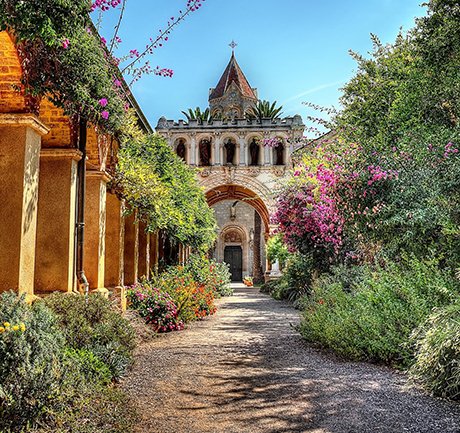 The 21 monks that currently make up the community of the monastery of the Cistercian Congregation of the Immaculate Conception, have been cultivating their vines with skill and passion since the middle ages. Every stage (pruning, disbudding and harvest) is carried out by hand. The wine estate now comprises eight hectares with which monks have produced high quality wines recognised by professionals, but also liqueurs for 150 years.
Discover the 10th century chapels and the 11th century ruins scattered across the island, whilst freely roaming the natural coves and paths lined with olive trees and Aleppo pines.
The island community is made up of monks from diverse cultural backgrounds. Indeed,  Lérins Abbey belongs to a monastic congregation of which it is the mother house. It is the Cistercian Congregation of the Immaculate Conception (CCIC) to which many monasteries worldwide belong: Sénanque (Vaucluse), Castagniers Abbey, the nunnery Notre Dame de la Paix (Castagniers-Nice), a monastery in Canada (Rougemont-Québec), a monastery in Vietnam (Mi Ca – Nha Trang), a monastery in Italy (Dominus Tecum – Bagnolo Piemonte). The monks lead a communal life, with the day structured by prayer, work, study and hospitality.
The monuments of Lérins Abbey
The monuments of Lérins Abbey bear witness to the history of Saint-Honorat Island.
Saint-Honorat Island has various listed monuments (Monument de France).
The fortified monastery or Monastery Tower :
The Monastery Tower was built in the three periods over more than three centuries. It is made up of numerous parts including its cloisters and chapels.
In the 14th century, this fortress became the central tenet of monastic life, as shown by the transfer of the relics of St-Honorat to the Chapelle Ste Croix in 1391. In the following century, a first cloister was built around the same tower, then a second in 1477. Thus, at the end of the 15th century, the monumental centre of the abbey shifted to this Monastery Tower. From the 17th century, the upper floors were set aside for soldiers who came on the orders of the king to defend the coastline: a garrison hall, chambers and terraces with walkway used as a lookout.
Saint-Honorat Island has seven chapels the most well-known being the Chapelle de la Trinité at the Eastern tip of the island.
St-Honorat Island has two of the last remaining Napoleonic hotshot furnaces. Built in 1794 on the orders of Napoleon Bonaparte, they were used to heat the canon balls to high temperatures. They are located at the Eastern and Western ends of the island. They have been listed historic monuments since 1908.